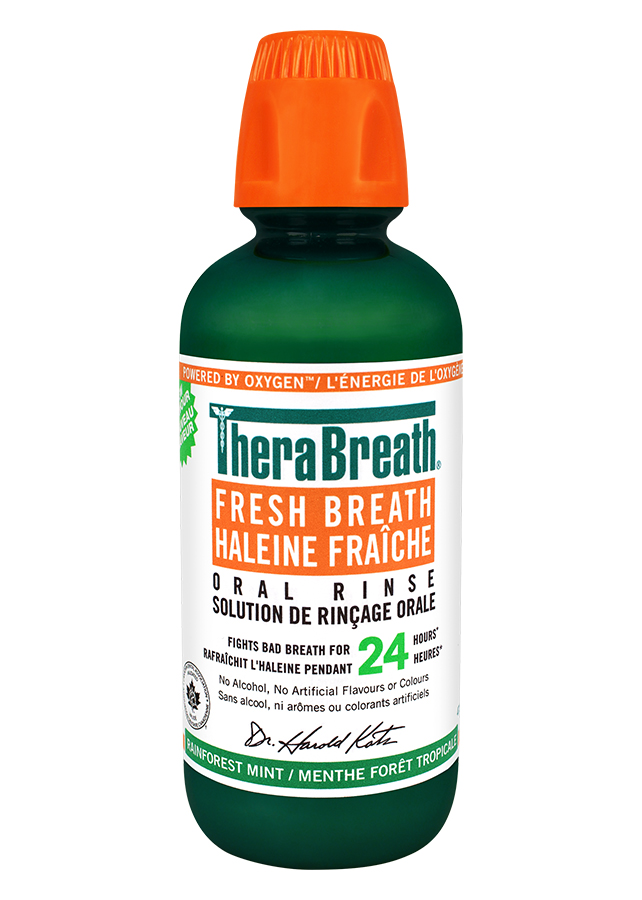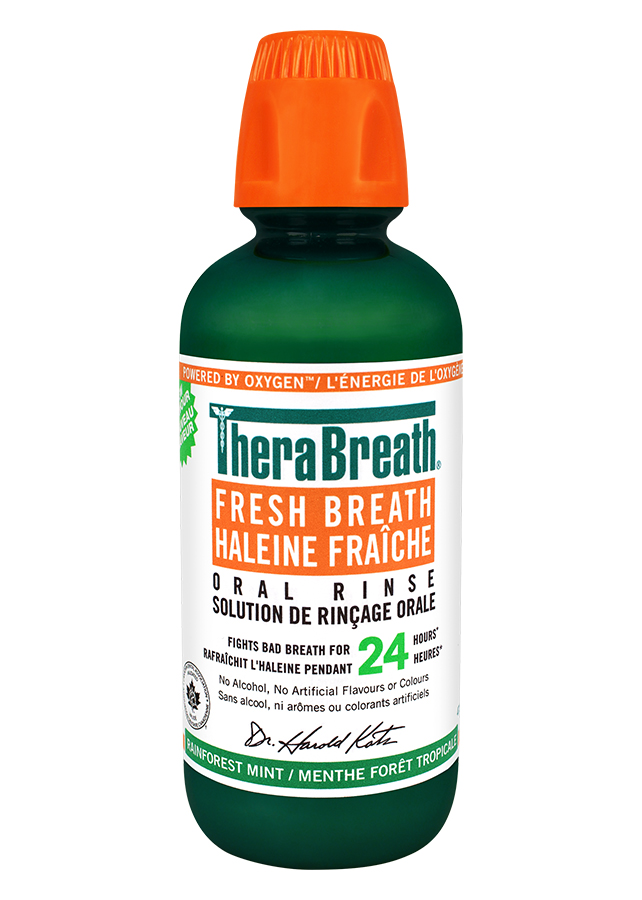 A Brand-New Flavour for Our CDA-Approved Bad Breath Fighting Formula!
Bad breath is nothing to be ashamed of. Everyone gets it! All you need is a safe and effective way to fight it. CDA-approved TheraBreath Fresh Breath Oral Rinse has been fighting bad breath for over twenty-five years. When used as directed, it is clinically proven to give you fresh breath for up to twenty-four hours.
TheraBreath Rainforest Mint Oral Rinse packs the same oxygenating, bad-breath fighting ingredients as our original TheraBreath Fresh Breath Oral Rinse. Only we've given it a hint of tropical fruit and natural essential bergamot oil for an exciting, refreshing taste totally unlike any other mouthwash.
Our TheraBreath Fresh Breath Oral Rinses have an alcohol-free formula that doesn't burn or irritate. They contain no artificial flavours or colours and are certified kosher, vegan, and gluten-free.
We're so confident in the effectiveness of TheraBreath Fresh Breath Oral Rinse that we back it up with our 100% guarantee. If you haven't seen improvement in your breath, contact us within 30 days of purchase for a full refund.
Ingredients
Ingredients: Water, Glycerin, PEG-40 Hydrogenated Castor Oil, Natural Citrus Blend Flavor, Neatural Bergamot Flavor, Citric Acid, Sodium Hydroxide, Sodium Chlorite, Mentha Piperita (Peppermint) Oil, Menthol, Sodium Benzoate, Sodium Bicarbonate, Citrus Limon (Lemon) Peel Oil, Limonene, Sucralose, Xylitol
Directions
Rinse mouth for 1 minute with one capful. Gargle with another capful for 30 seconds to clean your throat, a major source of bad breath. Wait 5 minutes before eating. Use morning and night.

For best results, use as part of a twice-daily regimen with TheraBreath Toothpaste.